At V360 Australia Ltd. we recognise the importance of community support and engagement so we can best address our mission. Anyone can become a part of our supporter base and volunteers are selected from this beginning. We like to call our dedicated followers the V360 A-Team!
One of our first major fundraising events will be held on Sunday 22 May 2016, where Leah Lawler, a veteran of both the Australian Army and Royal Australian Air Force will run a half marathon to raise funds for V360 Australia Ltd. You can be a part of this great awareness campaign in a number of ways.
Awareness: is sharing the mission with your friends and colleagues – in other words within your network. We also encourage you to direct the focus of those you know in the business community to our mission and ask them to consider contributing volunteer time, goods, services and of course financial donations, which are tax deductible.
Fundraising: is about holding an event such as a breakfast, luncheon or dinner. Inviting friends, family and colleagues can be a great way of spreading the word about some of the areas of post service life they may not be aware of. Asking for tax deductible donations can make a huge difference in the lives of those we assist out of homelessness.
Participating: would you like to suggest an event or participate in activities designed to raise funds for our charity work? Holding a Karaoke night where you donate $10 to have another person sing a song you choose can be a fun and memorable means of bringing good people together and raising needed funds for our veterans who have fallen on hard times. The options are limitless. If you would like to discuss some ideas please complete the contact form and forward your enquiry to us.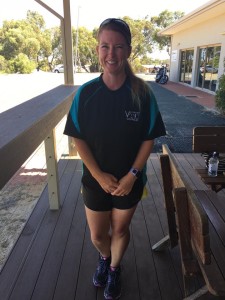 Leah Lawler
Ambassador
Leah served in both the Australian Regular Army and the Royal Australian Air Force for a total of about fifteen years. Leah has been a staunch supporter of V360 Australia Ltd. and since the beginning of our organisation.
Having her own motivation for self-punishment Leah has kindly offered to 'Run for Funds' and share the proceeds between two organisations. Physical fitness can be a massive factor in recovery for many veterans. Whether recovering from a physical or psychological injury, exercise can form a positive aspect of assisting in recovery and generating feel good chemicals within the body and brain. The social aspects are also beneficial. Getting out of the house to walk, run, ride or swim can be an amazing tool for breaking monotony and feeling accomplished.
We admire Leah's dedication to raising funds and awareness about veteran homelessness and look forward to supporting her during her incredible 'Run for Funds' on 22 May 2016.
Veterans 360 Australia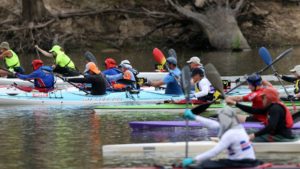 Massive Murray Paddle
Fundraising Event
The Massive Murray Paddle has been brought to V360 Australia for 2017, to raise much needed funds for assisting our at risk, vulnerable and homeless veterans. Mick Spring is coordinating this year's paddle and will be administering the facebook page and other coordinated activities.
Stay tuned for more information in coming weeks and months…
Veterans 360 Australia