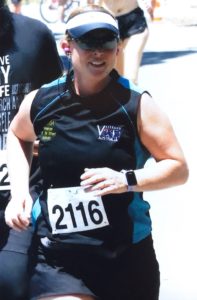 Leah Lawler enlisted in the Army at the age of 19 in 1991 and served until 2002 where she transferred to the RAAF until discharge in 2006.
After initial training phases she served in the catering corps as a cook and her postings included:
35 Water Transport Squadron Sydney
145 Signal Squadron Holsworthy
DCSC- NQ Townsville during this time promoted to Corporal
3 CER Townsville as the first female cook in a combat engineers unit
In 1999 she corps transferred to Military Police so she could pursue her first job choice as a Military Working Dog Handler.
After successfully passing training requirements for Military Police she then served in 13 Military Police Platoon Lavarack Barracks Townsville for 12 months. During that time she was detached to the Investigation Section for 2 months and then deployed for active service in East Timor.
On her return from East Timor Leah completed her Military Working Dog Handlers course and joined 44 Military Police dog section in Oakey near Toowoomba. Leah served in Toowoomba for 12 months after which she transferred to the RAAF Dog Section with the Combat Support Unit Amberley and was the first person to transfer with her Military Working Dog Misty that she trained with in the Army.
Leah then gave birth to her first child and took some time off, returning to serve her final year at the Air Force Security and Fire School where she trained adult and puppy Military Working Dogs before being discharged to full time her role as a mum to two boys.
During her service Leah was a dedicated and professional member of the defence forces, she received a commendation for dedication to her security at RAAF Base Amberley.
Throughout Leah's career and whilst serving with the Military Police she witnessed and attended various mental health issues affecting service men and women including suicides and attempted suicides before and after active service. She is also a child of a Vietnam Veteran and has grown up with the effects of Posttraumatic Stress which she accounts for being so passionate and driven about our homeless veterans and their mental health being properly addressed.
Leah is on a mission to run for as long as she possible can to raise awareness and funds and at 44 she feels like the cause has found her and given her a new way to serve others. Leah states she "is both honoured and humbled to be alongside the dedicated and courageous members of V360A".
Leah now works as an Education Assistant and helps children with special needs.
Please join us in welcoming Leah to our team and as our first bi-service Ambassador. Leah also brings the message that fitness promotes recovery; we are honoured to have this Champion in our organisation.